John Barrowman likes to do it to
Cole Porter
according to this interview in
The Advocate
. JB confesses in the article that, "I like men who sing from the cock." He goes on to explain some of the hidden meanings and background to Porter's lyrics.
Barrowman began his career on the London stage in Cole Porter's
Anything Goes
and was also featured in the 2004 Porter biopic
Delovely
doing a duet of
Night and Day
with Kevin Kline.
(a sample here)
Captain Jack's
most recent album
is all Cole Porter numbers.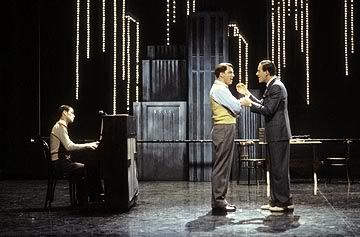 Source:http://movies.yahoo.com
No shock that Barrowman admires Porter, he was a master of innuendos with lyrics like, " I'd like to sup with my baby tonight, Fulfill the cup with my baby tonight, But I ain't up to my baby tonight, 'Cause it's too darn hot!"
PS - Advance reports are that in tomorrow's new issue of
Doctor Who Magazine
Russell T Davies will talk a bit more about
Torchwood
, including that he has never approached Charlotte Church to be in it. Check back for more as it breaks.