If you don't pop by Wimbledon soon you won't get a chance to see John Barrowman in the flesh for the forseable future. After the completion of his
Cinderella
run on January 15th, he will be camped out in Cardiff through at least March of 2007 working on
Torchwood
season 1 and
Doctor Who
season 29.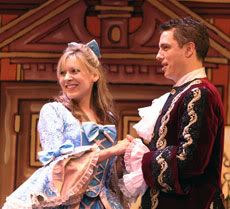 Source:http://www.thestage.co.uk
The reviews of
Cinderella
in the
Evening Standard
,
Wimbledon Guardian
,
British Theatre Guide
,
Indie London
,
LastMinute.com
and in
The Stage Online
are good and it sounds like you could do a lot worse than bring the kids to see JB in the panto.
On his one night off from the panto last week Barrowman popped up to Birmingham to sing christmas music with Elaine Paige. You will be able to listen to the whole show on BBC2 radio this friday night, or on
their website
for a week. If your quick you also still have a few days left to listen to
Doctor Who:Regeneration
on the
BBC2 site
, featuring interviews with many of the parties involved in bringing the show back last year including RTD and James Hawes.
Enjoy your large dose of WHO this week, once its over the countdown clock will be reset for March.