Torchwood
's creator Russell T. Davies must certainly be enjoying his status as a media darling these days. In the 2005 news wrapups for entertainment RTD has been frequently honored for bringing back
Doctor Who
. The praise for Russell is coming from every corner with perhaps the one exception of
trombonists
.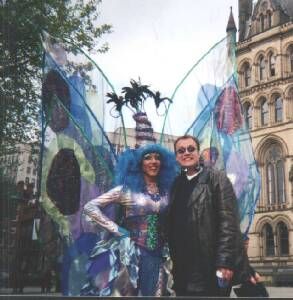 Source:http://www.lafreak.freeserve.co.uk
The Stage Online
called him the number one mover and shaker in the world of theatre and light entertainment for the year.
(He was snubbed in the heavy entertainment category!)
The Guardian
listed him among the growing number of gays who are shaping Britain last month. RTD had an amazing 2005, earlier in the year he was named the
14th most powerful person in UK media
and
awarded an honorary fellowship
from Swansea Institute.
Mind you Russell still hasn't gotten his knighthood, but bare in mind that all this recognition has come prior to the production of
Torchwood
. One can only imagine what's in store for RTD once his new baby is broadcast.
However that said, on a serious note I can not currently join the RTD love fest if
this recent report
that
Derek Acorah
will be on the new season of
Doctor Who
is acurate. Maybe Russell didn't have a say in it, but to whoever did, there is simply no place on WHO for scam artists. Even if it is a self-depricating cameo, it will give publicity to somebody who preys on people's misery instead of the WHO standard of publicity for critical thinking.