Let's just say we got off on the wrong foot with Mickey Smith in the first episode last year. He has since gone on to prove himself as a worthy WHO companion, admitedly he does need to just dump that tramp Rose and move on though. Plus yesterday we learned that the actor behind him, Noel Clarke, will be doing more than just reading other people's lines.
We already knew Noel could act. He started his career by winning the
Laurence Olivier Award for Most Promising Newcomer
. But can he write? Well he has already written one produced screenplay. That's one more than naysayers like you and me have. His film
Kidulthood
doesn't have the catchiest title, but he could have done worse, he could have called it
Flotsam and Jetsam
for example. He is also a good doodler, he put
this bit of his dalek artwork
up for auction with proceeds going to charity.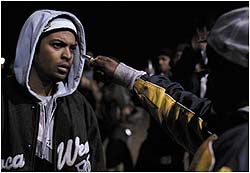 Source:http://www.viewlondon.co.uk
Kidulthood
is a semi-autobiographical film for Noel set in Notting Hill where he himself grew up. There is no sign of Julia Roberts in this
controversial
film however, it tells the gritty story of a group of delinquent teens. It has had mostly good reviews (
BBC
,
Channel 4
,
MusicOMH
) and hopefully Noel will again draw from some of
his own experiences
to color his assigned
Torchwood
episode. Mickey and Jack made a good 'odd couple' in
Boomtown
last year, so Clarke could insert a nice cameo for his own character in the spinoff.
He is not the first WHO companion to pick up a pen, Ian Marter, who played Harry Sullivan, wrote several story novelizations and worked on the WHO Scratchman movie before his untimely death. Maybe it will be a new tradition among actors on the show. I'm now looking forward to the Billie Piper penned episode titled
Honey to the Bee
.
PS - Mickey Smith's
WhoisDoctorWho website
has just been updated with video of Noel and a new interactive game.