Torchwood
news is coming fast and furious, and hard for me to keep up, what with my own crazy schedule. Thanks to everybody who is helping out.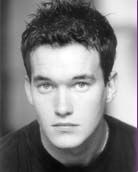 Source:hampsteadtheatre.com
It was announced today that
Gareth David-Lloyd
of Bettws, Wales will be
Ianto, Torchwood's receptionist
. I was hoping for that gig myself, since my typing speed is quite fast, but apparently I don't have a nice enough bum to work for the Institute.