I'm on a little bit of a high at the minute. Not only has Torchwood been re-commssioned for a further thirteen episodes, but I've also just seen John Barrowman performing on the Royal Variety Show 2006. He looks kinda cool in a tux; don't you think? On top of all that, we're promised a super cool episode of Torchwood this coming Sunday - a nice treat after the disappointment that was "Random Shoes".
The episode in question is called "Out of Time" and sees a passenger plane from the 1950's land slap bang in the middle of Cardiff, in the modern day. Its writer, Cath Tregenna also wrote the forthcoming penultimate season one episode "Captain Jack Harkness" - an episode that has some corners of fandom bursting with excitement.
Literally bursting. Some Woodies have already exploded in anticipation...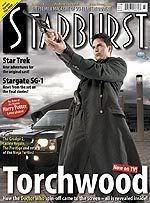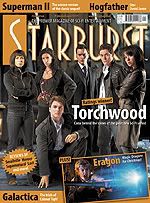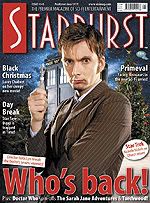 Tregenna is interviewed in the latest issue of Starburst Magazine. David Richardson, who works on the Starburst magazine, has very kindly sent the site a quick preview for the issue:
"our new issue has a fascinating interview with writer CathTregenna (writer "Out of Time" & "Captain Jack Harkness" with photos from these episodes."
The issue in question, issue 345, is out tomorrow priced around £3.99, Torchwood doesn't get the cover for the third month in a row however. That goes to some other little show airing on BBC1 on December 25. The current issue #344 - if you manage to track it down in time - has a neat
Burn Gorman interview
.
Torchwood galore!