Keeping you up to date on John Barrowman's calendar which is starting to fill up again. His official site now reports he will once again be slipping into the tights this panto season. This December he heads to the Birmingham Hippodrome
to star in Aladdin
. Lets hope he uses his three wishes wisely.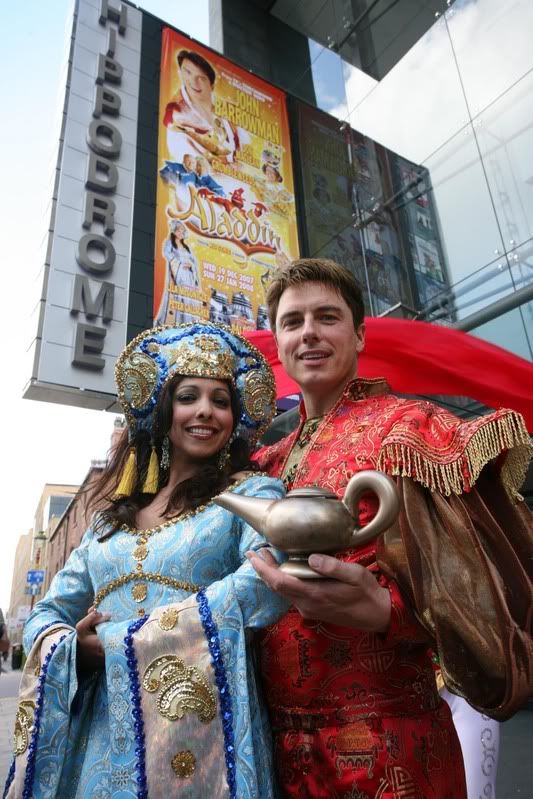 My what big hands you have!
Source:http://www.birminghamhippodrome.com
Also
mentioned on his site
, JB will be making an appearance at the Eridge Summer Fair on Sunday June 24th. The fair runs from 2pm - 5pm at Eridge Park, which is on the A26 just south of Tunbridge Wells. The following weekend on Saturday June 30th our Captain will take the mainstage in Trafalgar Square at the Pride London parade and show as reported in
Pink News
.
John will be part of a special
Blue Peter Doctor Who Special
next Wednesday the 13th. He will reportedly help Gethin Jones to make the inside of a Tardis, and some home made monsters on BBC1 at 4:35pm.
Finally,
This is Swindon
and
The Birmingham Mail
covered the press launch of the Royal International Air Tattoo show yesterday which featured John Barrowman and Maria-winner Connie Fisher flying in the back of an RAF Hawk. There was no room in the cockpit for the Joseph-wannabes from the current reality show he is judging, the winner of the finale this Saturday will just have to wait until next year for a bigger and better photo op.