On Saturday 25th April the Forbidden Planet store on Shaftesbury Avenue in London will be holding a special signing, to commemorate the release of the very first Torchwood graphic novel - "Rift War", released by Titan Publishing, and extracted from the pages of their official Torchwood Magazine.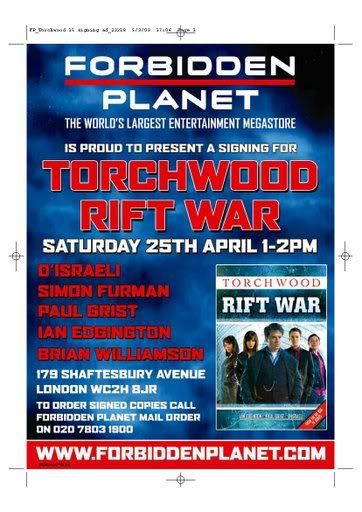 PHOTOGRAPH COURTESY OF JOHN RIVERS
Much of the comic's original creative team will be there on the day, as well as other members of the Torchwood Magazine team. These include D'Israeli, Simon Furman, Paul Grist, Ian Edgington and Brian Williamson. No doubt TW Magazine will run a feature on how the day turned out in a future issue.
It's a great chance to meet some of the extended Torchwood creative team, and meet up with other fans during the day, also. If you wanna know more, clicky here.
(Thanks to John Rivers at the Doctor Who Forum for bringing this to my attention.)
***
In other news, ahead of the Blu-Ray release of Torchwood's second series UK Woodies can see the entire series in glorious HD by downloading the episodes direct from iTunes, at £2.49 a pop (so around £33 for the entire series, then).