You know it has to be a slow day when I am writing a post about a story like this.
(Come on, you have to expect a slow news day regarding a show that is still 9 months from premiering. Well I have committed to daily posts about Torchwood and I'm sticking with it damnit!)
This just over the wires, Charlotte Church has a fat head! Well that's
according to Cheryl Tweedy
and we all know she is an expert about such things.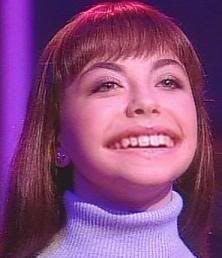 Source:http://www.angelfire.com/sk2/innit/a.html
In other news
regarding CC, She is listed at
150 to 1 odds
to be the next Bond Girl. While granted she is a bit of a longshot, she fairs a lot better than Abi Titmuss who is currently at 250 to 1 odds and suprisingly
Billie Piper
is nowhere to be seen! Personally I think the smart money is on Scarlett Johannson at 25 to 1. And if placing a bet on that weren't pathetic enough you can also put money down on whether of not
Church will get married to Gavin
. I wonder what the odds are that Charlotte will actually be in
Torchwood
, as that news still has yet to be officially confirmed.