Those of you in the London area have the opportunity to see John Barrowman on stage through the middle of December in a production of
A Few Good Men
at the Haymarket. He is playing the non-singing prosecuting attorney in Aaron Sorkin's play. If you recall this was the Kevin Bacon character in the film. I wonder how many degrees from Kevin that puts JB.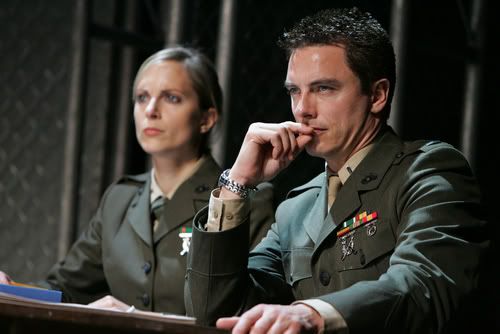 Source:http://www.kenwright.com
The reviews are out and are mixed but the majority of them seemed to be impressed with John.
This review
said that Barrowman should have swapped with Rob Lowe for the leading role. He commented that JB has the potential to duplicate Tom Cruise's electricity from the film. As
this TV appearance
shows, nobody can match the electricity that comes out of that wackjob. Cruise just might make a great villian on
Torchwood
.
In other reviews,
The Stage Online
calls JB's character "cocky" and at
The Rainbow Network
he is referred to as "impossibly handsome." Try telling us something else we don't know.