Aaron Spelling is
in the news again,
which admittedly I found quite shocking since I thought he was dead. He is suing his nurse as he was none too happy that she was about to call a press conference discussing the special services she had provided for the TV producer over the years.
One of Spelling's lesser known shows was a nightime soap filled with handsome actors called
Titans
. The show was trashed
by the critics
and public and
lasted less than a season
on NBC. Apparently
Tori Spelling's
father had gone to the
Dynasty/Dallas
well one too many times.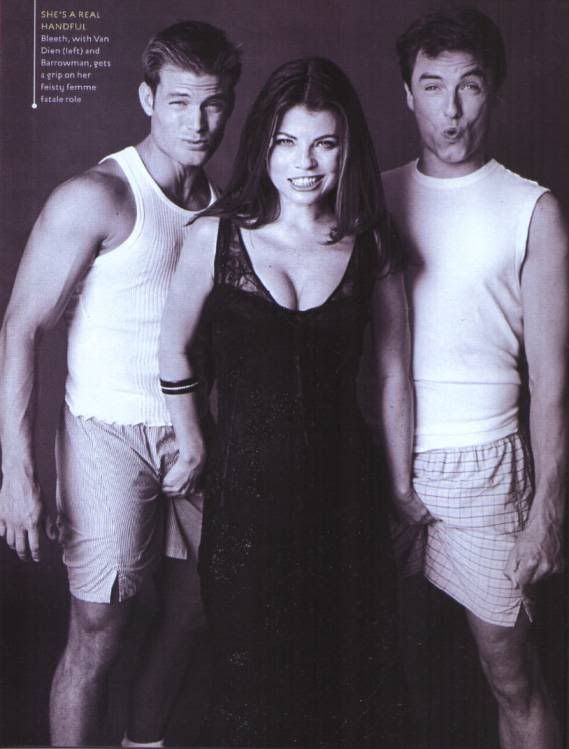 http://www.sitcomsonline.com
However, in 2000 what
Titans
did provide to folks in the USA was a glimpse of John Barrowman on their TV screens. JB played a malicious lush called Peter Williams in the soap, in
this TV guide interview
he relished the role saying, "Good guy parts are unmemorable."
Interestingly enough one of the couples on that show was named
Jack and Gwen
!
Titans
wasn't Barrowman's first exposure in a primetime soap. In 1995 he starred in another short-lived show called
Central Park West
. It was
received well
at the time by people who enjoy that sort of thing. In
this interview
that JB gave about the show, he was asked who was his type, he played it straight and responded, "Joan Collins." But John was able to slip in some innuendo even back then. After telling a story about running naked down Fifth Avenue, he told the reporter that his favorite pickup line was, "I'm your racehorse. Come ride me."
PS - I am a bit under the weather this weekend, so no new posts until I recover.