Well it looks like
Torchwood
and the new James Bond movie
Casino Royale
are having tryouts in the same place. Back when Charlotte Church was rumored to be on the show,
there were odds on her
as a potential Bond girl. Rachel Stevens, the most recent Gwen wannabe has also
been connected
with the juicy role in the 21st Bond film. Plus there is Billie Piper, you know the girl from that other show Russell T Davies works on,
she has reportedly scored an audition
for the role of Vesper Lynd.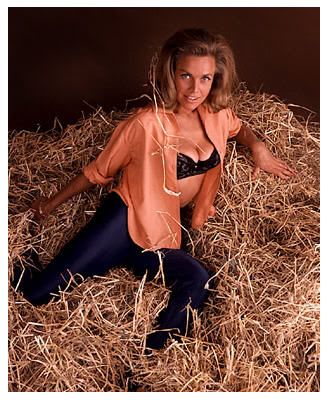 source:http://en.wikipedia.org
It sounds like if you are British and a babe you get on the Bond list. The producers of
Casino Royale
, and of
Torchwood
for that matter, seem to be in no hurry to end the speculation of who their respective female leads will be. Once they announce that, what the hell else are people going to talk about.
Not suprisingly, there have been several actors who have crossed between
Doctor Who
and the James Bond films before. Long before he was the Master, Anthony Ainley was an extra in
You Only Live Twice
. And the Black Guardian himself, Valentine Dyall was in the first version of
Casino Royale
as none other than Vesper Lynd's assistant.
Honor Blackman
, played Proffessor Lasky in WHO's season 23 story
Terror of the Vervoids
. But Blackman is better known for portraying a certain Bond girl in
Goldfinger
with one of the most memorable names in the history of cinema. So whatever lucky actress ends up with the new role of Vesper, she will undoubtedly be dissapointed that she didn't get a better Bond girl name such as the eternal Pussy Galore!