Other than John Barrowman we still don't know any of the cast yet for
Torchwood
. There has been plenty of speculation of course. It started with
the Charlotte Church rumours
in October, those gained some legs until RTD flat out denied them. Then
we heard from Rachel Stevens
in November, she started some
Torchwood
rumours about herself. Now in December
we have the Eve Myles rumours
.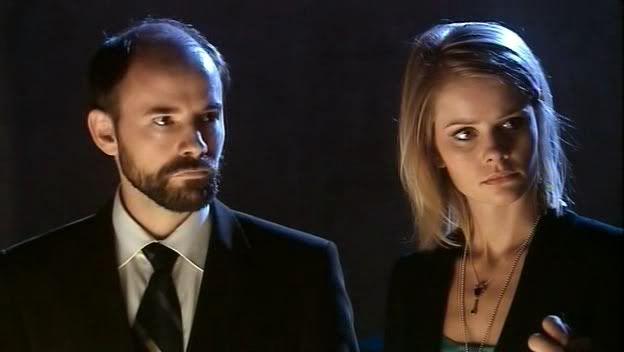 Source: screen capture from

TCI
featuring the late Daniel Llewellyn and Sally Jenkins
It obviously is quite easy to start Torchwood rumours so lets start plenty of juicy ones for the new year! The buxom model Jordan
said she wants to be a villian on

Doctor Who
. She has this great idea of being a killer model who uses her boobs as weapons, but don't you think that would be a much better fit for
Torchwood
? Jack would not be able to resist her arsenal, even after they became deadly. But we wouldn't have to worry about him, he keeps weapons in strange places as well.
File it under wishfull speculation, but Sally Jacobs, the blonde communications expert from UNIT with the A+ blood really perked my attention in
TCI.
She was played by the Icelandic
Anita Briem
and would of course make a nice addition to
Torchwood
. OK, so she would probably have to be demoted for some reason to end up with the rabble-rousers in Cardiff but she could always serve as a liason of some sort between UNIT and Torchwood. Or just be involved in secret liasons, either way.
Now, just like that, we have enough up-n-comers to keep us busy through the time production starts in February or so. Feel free to start your own rumours as well, lets not rest until we have a few dozen potential Gwens.