Of course, as luck would have it, on the day that the
first official BBC announcement
regarding
Torchwood
was made since October I was on a tropical island, far from the internet, relaxing on the beach with my fiancé. Thank goodness jackharkness was at his post in Cardiff and able to keep you abreast of the big news.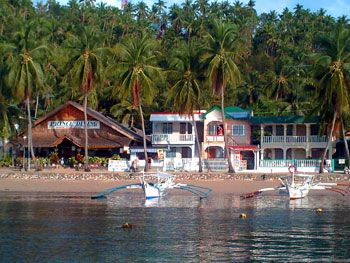 I was at
Puerto Galera
in the Philippines this past weekend
(One of my photos above)
where suprisingly nobody was discussing the new revelations made about the
Doctor Who
spinoff. I am back in Seattle now, where the Gwen Cooper news is obviously all the talk around the water cooler.
The Western Mail
seems to have the most lengthy interview with Eve Myles.
Welcome all new readers to the page, we are getting noticed more and more everyday. We've been running strong since October. So new Woodies can go read the archives if you need to see for yourself how much time I wasted on writing posts about Charlotte Church and Rachel Stevens over the fall and winter. I know you old-time members of the Innuendo Squad are not that shocked about the Eve Myles announcement.
SFX Magazine
was the first with this information, and
we covered it
in December.
After I get over this jetlag, in the days to come I will fill you in more on newly announced producer Richard Stokes, writer Toby Whithouse and more on Ms. Myles of course.