For the first and last time, Eve Myles will be playing the female lead on
Torchwood
, not
Doctor Who
! I am not sure why the tabloids find this information so hard to comprehend. Literally, the second the Gwen Cooper announcement was made the rags were claiming she would be replacing Billie Piper on the parent show. It's a bit difficult to trust journalism that doesn't even get the character's name correct, in both of these articles they refer to Eve's character as Gwen Davies!
The Mirror
,
The Daily Record
.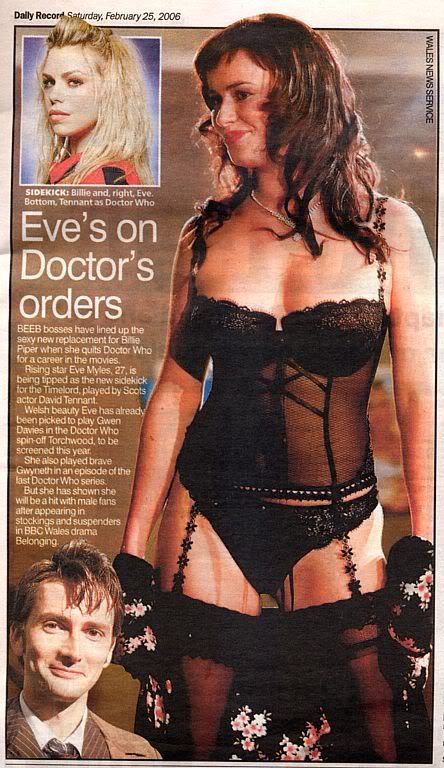 Who knows what the future holds, but as John Barrowman said on the
Richard and Judy
chat show in January, one of the difficulties they were having with
Torchwood
was in finding how far into adult territory Captain Jack could go and still be allowed to return to the family-friendly WHO for season 29. JB said
(I'm paraphrasing here)
that it looked like the Captain would be the biggest prude on the staff, and the others at the institute would be up to the majority of the mischief.
His statement could be interpreted to mean that Gwen will get a bit too naughty in the spinoff to ever be accepted by the BBC brass as a companion for the Doctor. Not to mention that from a programming standpoint, spinoffs generally only share one character with their parent show and try to differentiate themselves enough to add new audience members to the franchise.
To further remove her from WHO companion speculation, we also have the "
chalk and cheese
" quote that Myles made in response to comparisons between her character Gwen with Rose. Nope, Eve will be exclusively ours' on
Torchwood
and for the next several months the tabloids will just have to go back to guessing which Welsh pop star will replace Billie.