The
Torchwood
stable of writers has accepted one more member. Toby Whithouse has picked up a pen and joined RTD,
PJ Hammond
,
Chris Chibnall
and
(likely)
Steven Moffat
.
Whithouse was already given the important task of writing episode 3
School Reunion
for the forthcoming season of
Doctor Who
. It is a highly-anticipated story that will feature the return of two companions from the classic series.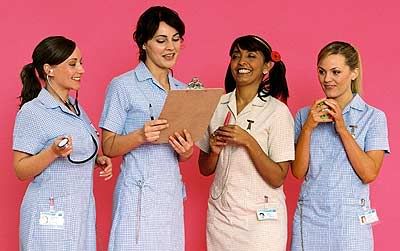 Source:http://www.channel4.com
Toby is probably best regarded for creating the show
No Angels
, a
Channel 4
drama about young nurses in love. He has been much in demand lately,
an episode he wrote
of the drama
Hotel Babylon
aired a few weeks ago on BBC1. His play
Blue Eyes and Heels
starring Martin Freeman ran at London's Soho Theatre last Autumn. Unfortunately the stage show which featured a heavy dose of satire attacking TV had
less than stellar reviews
.
Whithouse has appeared in front of the camera as well. His
IMDB actor entry
reads almost like Ricky Gervais' CV from
Extras
, including characters named: Man in restaurant, Sound Technician, and Student. To help his stalled acting career he could always write a juicy part for himself in
Torchwood
, perhaps as an unnamed Institute agent who is exterminated in the first five minutes of the episode.
PS - John Barrowman will once again be on the ITV chat show
Loose Women
this Friday the 3rd. If his appearances last Fall on the program are anything to go from, JB should be good for an innuendo or ten.