Reports are that the BBC3 autumn press release DVD which has already been distributed to some media includes a 90-second trailer for
Torchwood
. I haven't spied this online yet so we may just have to wait a month or so before it airs!
(Don't hesitate to shout out if you see it somewhere)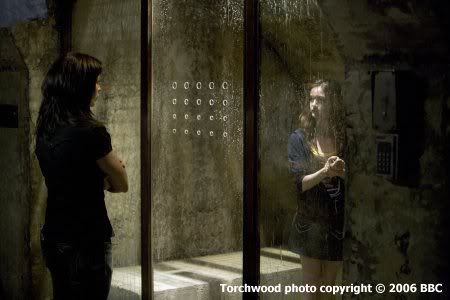 According to an
OG forum report
(minor spoilers)
the trailer has several scenes between Jack and Gwen, with Jack saying, "Torchwood is separate from the government, outside the police, beyond the United Nations." There is also a police official who makes reference to Jack failing to report for duty and dissapearing on January 21st, 1941. There are some shots set underground at the Hub, and one dramatic one featuring the Captain standing on top of a tower. The music and tone throughout have an X-files feel to them.
A trailer is worth a million words, so let's hope this is released soon so I won't have to type them.