Later today several of you will be watching
Everything Changes
in HD on the big screen. The rest of us will just have to wait until the TV premier Sunday night. Also this evening the official
Torchwood
press launch will be held at Cardiff Bay's
St David's Hotel
. The invitation-only event will feature a question and answer session with RTD and the cast. Unfortunately our invitation must have got lost in the mail and we will just have to read about what was said at the press conference in the news tomorrow like the rest of you.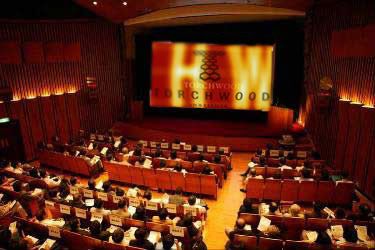 For those who aren't lucky enough to be painting the town Torchwood red tonight, there will also be a reason for staying home. Sometime during
The Colin Murray Show
which starts at 10:30pm on Radio1 he will be airing a documentary about our favorite spinoff. The radio show will be presented by Eve Myles and feature an interview with producer Richard Stokes.
Of course it should go without saying that everybody who heads out into the public to see Torchwood tonight needs to be on their best behavior. I don't want to see any screaming headlines in the papers Thursday like: "Woodies on the Loose!"