With only three days to go now until the television premiere of Torchwood on BBC Three, the media frenzy has finally began to kick up a gear or two.
Tomorrow morning, on BBC Breakfast (BBC One) there's going to be a John Barrowman interview, and a few (pre-watershed acceptable) clips of the series. The whole piece should be posted on the BBCi website once transmission has ended.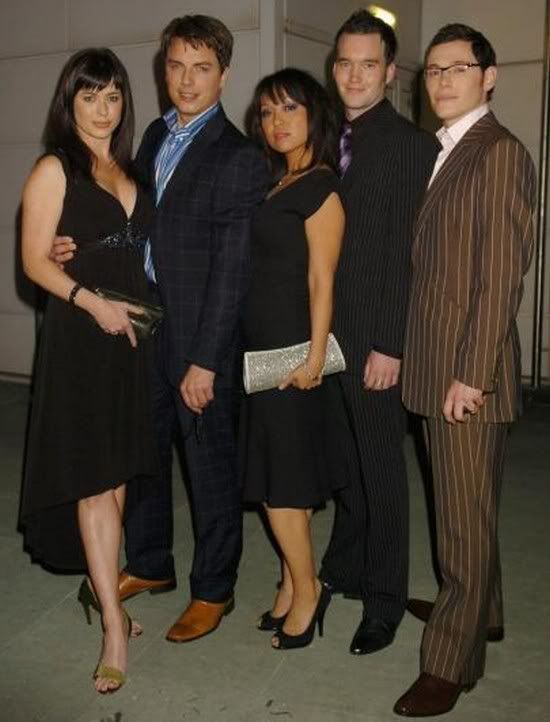 Photo from Cardiff's premier courtesy of rexfeatures.com more pictures here.
Meanwhile, British papers across the land are all running quick Torchwood previews today. I'm guessing either they all went to the Press Screening last night,
(Wales Today's coverage of it, now up on youtube thanks to Tara here)
or haven't been allowed to print about the series until now. Anyway, today we have articles in print in:
the Sun
, the Daily Star, the Daily Mail and the Mirror. Keep your eyes peeled - and if you do stumble upon some press cuttings, let us know. So far we have spotted coverage online at: icWales
here
and
here
,
Manchester Evening News
,
The Guardian
,
The Stage
,
INS Australia
,
Digital Spy
, and two from the BBC,
here
and
here
.
In other news, a short 10 minute Torchwood Declassified has been put up on BBCi for all to watch (presumably, in the UK only though). You can watch the special Declassifies teaser episode by clicking
here
, and scrolling down a little to find the link needed.
We're hearing also that this Saturday's Times will have a nice Rusell T Davies interview...
If you spot any Torchwood related goodness, let us know by e-mailing us
here
.
Until next time Woodies...