Not only is Torchwood on the cover of this week's "Radio Times" - but on several other magazine covers as well!
The Radio Times' digital listings rival, 'TV and Satellite Week' squeezes Torchwood onto it's front page. Inside there's a teeny tiny interview with John Barrowman, which looks like it's been cobbled together from interviews he's conducted in the past. You can see the cover below. The magazine proper is on sale now, priced exactly £1.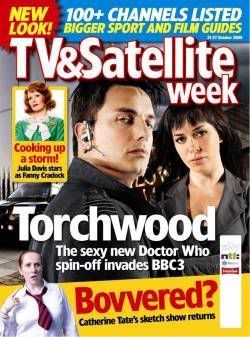 Other TV listings magazines have small Torchwood articles- but although eye catching, none are particularly memorable. It's worth pointing out that next week's Radio Times also promises a "personal tour of Jack's desk". It looks like this is becoming a regular thing in the Radio Times...
Moving on, this month's Starburst Magazine (no picture yet I'm afraid - no fair!) has a revealling interview with Executive Producer, Julie Gardner. She also talks about other forthcoming BBC Wales projects, like The Sarah Jane Adventures, Dracula, Life on Mars 2, and - of course - Doctor Who. Though the interview is a reasonable length, it doesn't really tell us anything we didn't already know.

But who am I to, judge? Go forth, and buy Starburst issue 343 and be your own judge. It has got a nice Capatian Jack cover after all...

Due to a recent press embargo on Torchwood images, TV Zone has failed to secure any images of the series (because the embargo apparently ended a week after the magazine went to press). So, TV Zone issue 208 should have had some nice Torchwood news/articles, but instead, it has none. As consolation, we're given a very bitter Editorial, where the magazine's editor has a nice little moan about the lack of photos in magazines. It's worth the £3.99 alone!
Our friends at SFX Magazine may still be printing there Torchwood-themed issue 150, but that doesn't mean that their website is lacking the essentials. Richard Stokes today provides a rather unique character guide - and you can read it for free by clicking here.
And for now, that's it. If you spot Torchwood if any magazine you happen to be reading, then get in contact with us at torchwood.tv, and we'll post about it here!