With all the trailers and clips released over the past week I imagine I'm not the only one who has gotten them confused. So here is your ultimate web guide to
Torchwood
Trailers (as of Friday the 13th.) Follow the links to catch up on any you have missed.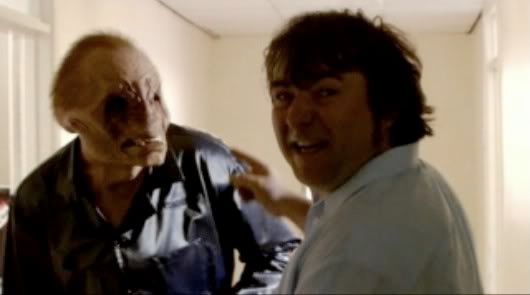 It started with the first two-second
Torchwood Teaser
almost two weeks ago. Then after Robin Hood last Saturday we got the
first trailer
with actual footage. The next day we got the
one-minute trailer
which was leaked from an internal BBC source and had previously been shown to the press and at a few events here and there. Then all hell broke loose when they released
the third trailer
which featured lots of blood and snogging. The most recent update is last night's
fourth trailer
featuring a kiss between Jack and Gwen and reportedly the official theme tune music as a bed.
Now of course we also can't forget the little viral Torchisodes that have sprung up. We had the overhead
carpark vantage point
of a ressurection. We then had the same ressurection captured from
street level
. Plus we can't forget the
disturbing tie-in
to the second episode
Day One
, that was captured in an alley.
In addition, there have also been some Torchwood trailers spotted in the cinema this weekend, and a few
new brief teasers
airing in between TV programs featuring the T-logo and the cast's faces.
Then, last but not least, there is the one minute scene from a BBC promo DVD featuring Gwen, a Weevil and the guy pictured above. This clip has now been posted on youtube
here
. If anybody's appetite still remains to be whet, I'm sure trailer #5 is soon on its way.