The
Torchwood De-Classified
program hasn't exactly scored a primetime slot on the schedule. According to the
Radio Times
the first two behind-the-scenes programs will make their TV premiere during the graveyard shift starting at 2:40am on BBC3 the morning of Monday the 23rd. They will follow the late night repeats of
Torchwood
episodes 1&2.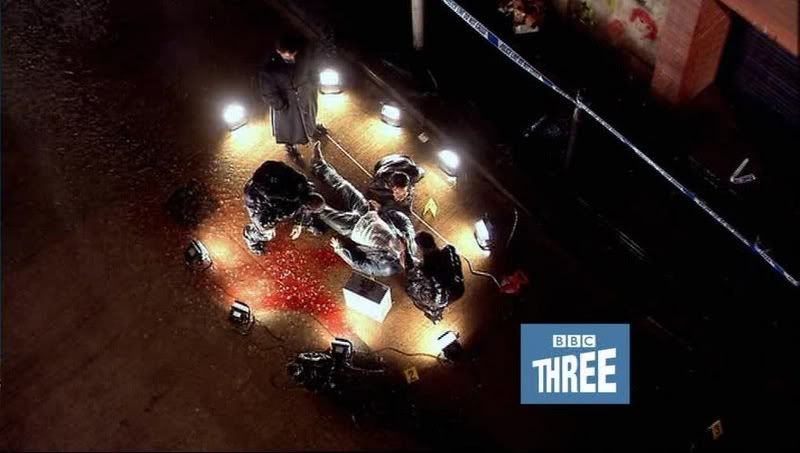 With that schedule at least we don't have to worry about the under-16s accidently watching a documentary about how an adult drama was made.
Torchwood De-Classified
is roughly ten minutes long and looks like it is meant to sandwich in with Torchwood itself to create a full-hour block.
If you have a life and can't stay up that late on Sunday or don't have a means of recording it, you will have to wait until Friday the 27th of October at 9:50pm when it will air again following another repeat of
Everything Changes
on BBC3. They will also be connected to the official website for watching anytime, as long as you don't mind watching a stream in a tiny window on your computer.
I have a strong feeling there will be a lot of unproductive Woodies at work on Monday the 23rd.
Update:
Summaries for the first two episodes of Torchwood De-Classified are now up on the
BBC3 schedule
:
2:40 am : Actor John Barrowman talks about the experience of being cast as Captain Jack Harkness, and backstage footage shows just how this groundbreaking new series has been brought to life.

2:55 am : Eve Myles plays Gwen Cooper, the Cardiff cop who has found herself drawn into the fantastical world of Torchwood
Plus if you truly do want to make it an all-nighter it looks like it will be worth it, following both of those at 3:05 will be a documentary about swearing on TV called
40 Years of F****
.