For those who missed JB frolicking and flirting on the Jonathan Ross show last night, Taraliveson has kindly posted it in two parts on Youtube,
One
and
Two
. No big revelations but plenty of saucy talk.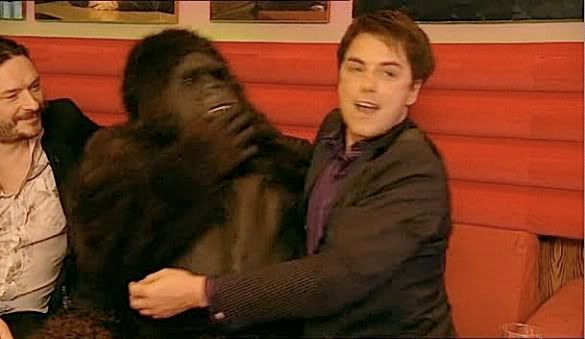 The two jokesters even had a chance to analyze our favorite cult film
Shark Attack 3 Megaladon
,
old news for Torchwood.TV
of course, but the more exposure for this classic piece of cinema the better. JB also invited everybody down to his civil ceremony at the Cardiff St. David's Hotel, so long as you bring your own cake.
Barrowman will be on the couch again tomorrow morning on BBC1 on
Sunday AM
at 9:00. (It will also be viewable online at the official site
here
) However, my guess is he won't get the chance to snog any gorillas on that show.