The
autographed Ghost Machine script
as of this moment is selling for close to £550 on ebay. There is only about a day left to bid and all the money goes to the Cardiff & District Samaritans charity. It's moved a little bit out of my league but there must be some wealthy Woodies out there who can push the price up a bit more.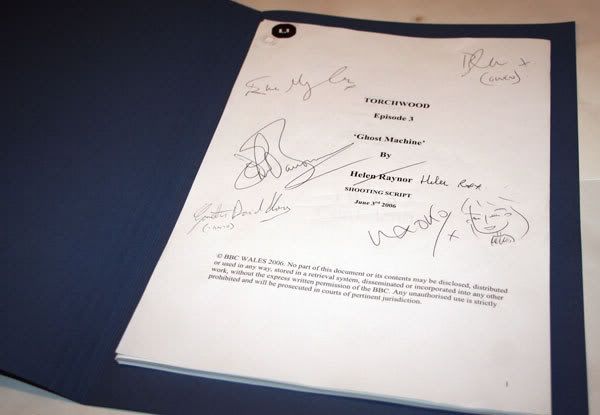 Us writers at Torchwood.TV could always sign some of the leaked call sheets from last Spring, I wonder how much that might raise for a good cause. Speaking of, Sparklies had to take down their spoilerful
Torchwood
photos for the remaining episodes by order of the BBC. I have been so busy I even missed those! My wife and I are in the process of uprooting and moving to greener pastures, workwise. So you'll be happy to hear you won't be hearing much from me this month.
And finally, we have more information care of Finch at OG about the Torchwood DVD box sets, we already know that Volume one comes out on December 26th. It will contain episodes 1-5.
(Don't forget to order it from the handy link on the top left to help support your favorite Torchwood blog!)
The second volume is due out on February 26th featuring episodes 6 -10, and finally volume three will come out a month later on March 26th containing the last three episodes and lots of extras.
Enjoy
Random Shoes
tonight and have a wonderful Woodie week.