Although you won't find much about
Torchwood
inside the latest issue of SFX, included with issue #153 of the magazine are a set of four pin badges (Referred to as buttons on my side of the water.) There are two different sets, one featuring characters from Doctor Who and another set containing buttons of Jack, Gwen, a Weevil and the Torchwood logo.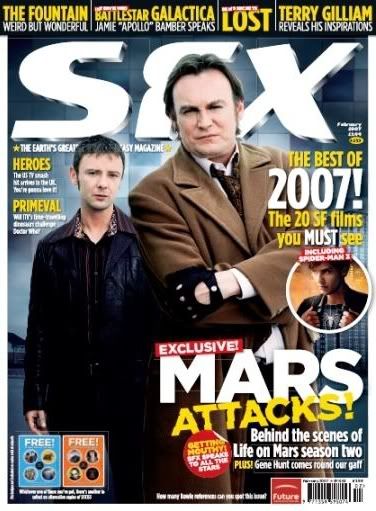 The cover story of SFX is about
Life on Mars series 2.
Of course choosing between the two badge sets will be such a hard decision you will just have to buy two copies and toss the extra magazine. And a warning to the kids, you know you aren't allowed to wear Weevil badges to school.
JACKHARKNESS UPDATE: I actually subscribe to the magazine, and received the Torchwood 'buttons'. As I'm hardly a fan of such objects (the pins hurt if you're pricked by them!) I'm going to give one lucky reader the chance to win my badges in the coming weeks. So stay tuned to Torchwood.TV to find out how you could win!