Series two guest star James Marsters stoked the fire a bit with some comments he made at the Fangoria convention in New Jersey last weekend. The actor said that they were reworking his episode's script and he would soon be heading to Cardiff for filming. He
told the fans at the Q&A
that the episode he's involved with is, "going to offend some, titillate others. To the point where they would need to finish themselves off afterwards."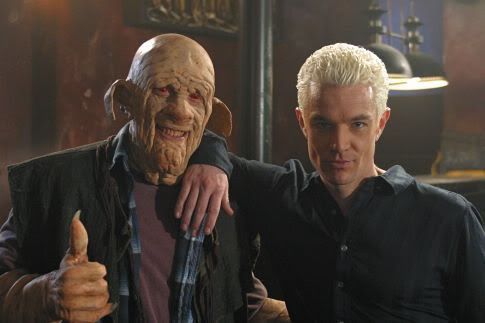 Source: 20th Century Fox Film Corporation and UPN
James also discussed how the environment in the UK is more liberal in it's approach to sex and sexuality compared with the US and implied that something "omnisexual" was going to happen in his episode of Torchwood. Who knows, maybe we have a Myfanwy/Marsters coupling to look forward to?
While Marsters is in Cardiff, locals shouldn't miss the opportunity to witness his musical and songwriting talents in a live performance at
the Point on Saturday July 21st
. For all the latest on the Marster, drop by the fansite
Rocks Off
.
In unrelated news, a Mrs Harkness1 on YouTube managed to get some video of John Barrowman and Eve Myles clowning around between takes at the Hub's secret entrance earlier this week in the plaza. She put up two 1-minute-long clips,
here
and
here
.