According to
his official site
, John Barrowman is flying out to Hollywood as we speak and will be in sunny Southern California a mere 48 hours or so before he heads back home in the nick of time to appear live on the BBC1 program
Animal Rescue Live
on Monday morning the 16th broadcasting from Battersea Dog's Home.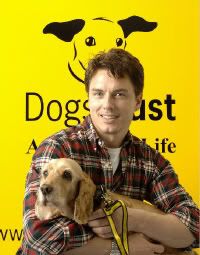 Source: K9magazine.com
Finding homes for rescued cats and dogs is one of JBs 'pet' causes, if you'll allow me the bad pun, and he wouldn't want to miss the opportunity this Monday. So no public appearances for John on the trip and for those of us in LA we will have to look at the press reports just like everybody else worldwide to see what happens at the Torchwood BBCA launch this weekend.