While us Woodies are waiting for our show, there is another program airing now that could just tide us over. It premiered last Monday on BBC1 and is called
Life on Mars
. You probably didn't catch the premier since the brilliant Richard Dawkins
was over on Channel 4
that night and not to be missed. But tonight(Monday) remember to switch over to the new BBC show as soon as Lalla Ward's husband's show
The Root of all Evil
is finished.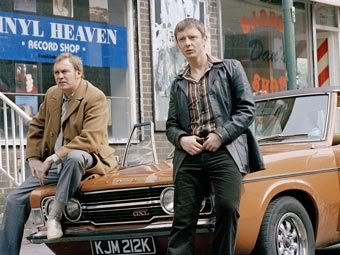 Source:http://www.bbc.co.uk
Life on Mars
is about a modern day Manchester police detective who finds himself in 1973 where action and hijinks then ensue. Early reviews are for the most part favorable (
Hollywood Reporter
,
Digital Spy
,
New Scotsman
) and at least one episode will be written by
Torchwood
writer
Chris Chibnall
. The title comes from a David Bowie song, so don't expect any Martians or other aliens. Although who knows, this is set back in 1973 so the police might just have to call in UNIT and their mysterious scientific advisor at some point.